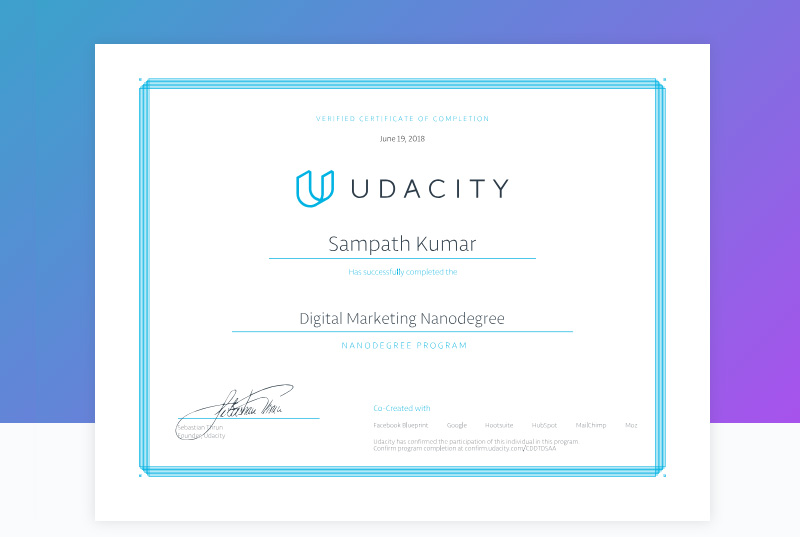 Notes on Certifications: Udacity, Symbiosis
---
Over the past year or so, I have been trying to get some formal training on areas that may not be directly related to work I do; but have been personally interested in. Listing below the two certifications that I managed to complete during this while, and ones that I thoroughly enjoyed going through. Since both these employed self-paced, distance learning method, it was convenient to do these from the comfort of my home. If you are interested in these areas, I would definitely recommend these.
Udacity Digital Marketing
So now I am a Udacity-certified Digital Marketing specialist! Well, this was a fun course that took me right back to the days when I used to attend classroom sessions – complete with classmates, instructors, tests and marks! The magnificence of the new connected world!
The course was a lot more harder than I expected it to be – with a deadline for completion, about 10 hands-on projects where I spent real dollars to market some real stuff and strict reviews by instructors. It also took a lot more time and commitment than I expected it to (my bad here. They clearly specify the expectations upfront; I just over-estimated my skills in the area and thought it would be a breeze for me). But I thoroughly enjoyed the video-based lessons by some very pleasant instructors and competing with classmates on getting better marketing results.
Symbiosis Diploma in Creative Writing in English (DCWE)
This was another tough one that spanned almost a year. With about 6 exams to complete and a few writing projects, this course gave great insights into the art of creative writing. What I did not like about the program was its exam structure – where one had to memorise material from the books to pass. But otherwise, it was fun.
The next one I am looking at is a language course. Let's see how that goes.